Instaliranje android aplikacija na SD karticu po default-u
Počev  od verzije 2.2 android-a (Froyo) Google uvodi mogućnost da se aplikacije instaliraju i "pomere" na SD karticu. Što se tiče pomeranja postoje razne aplikacije (APP2SD) na marketu, ali da biste mogli da ih pomerite sa memorije telefona moraju da podržavaju tu opciju.
Sa druge strane postoji način da sve aplikacije instalirate na SD karticu po default-u uz pomoć Android SDK-a. Uprkos tome da se instaliraju na SD karticu direktno, aplikacije će zauzimati i malo mesta na memoriji telefona u zavisnosti od veličine aplikacije. Widget-e nemojte instalirati na SD karticu jer neće raditi!
Pa da počnemo, prvo što će vam trebati jeste instaliran Android SDK koji možete skinuti ovde, a upustvo za instalaciju možete videti ovde. Upustvo sam uradio konkretno na Ubuntu tako da će slike biti u skladu sa tim, ali ću detaljno objasniti šta treba da se uradi u Windows-u.
Kada završite instalaciju, na telefonu je potrebno da namestite USB debugging tako što ćete otvoriti i čekirati USB debugging preko Settings > Applications > Development > USB debugging.
Povežite telefon preko USB-a, Charge Only. Ubuntu nije tražio naravno dodatne drajvere ali ako Windows traži instalirajte ih iz android-sdk/usb_driver foldera. Sledeći korak je otvaranje komand promta Ubuntu Terminal, u Windows-u  Start > Run > cmd. Pomoću cd naredbe pređite u adresa_instaliranog_andorid_sdk/tools(ili platform-tools u zavisnosti od verzije SDK-a) kao što je prikazano na sledećoj slici:
Zatim ide naredba sudo ./adb devices na Ubuntu(adb devices Windows) . Rezultat bi trebalo da bude serijski broj koji počinje sa slovom "H" kao što je prikazano na slici: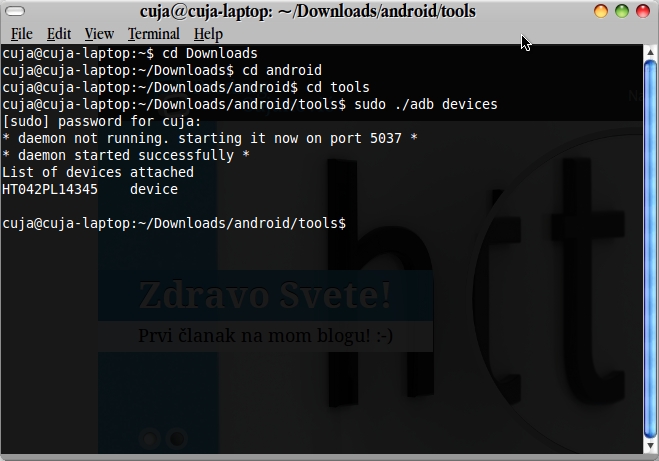 Posle toga treba da otvorimo shell da bi izvršili komandu na telefonu, za to se koristi naredba ./adb shell Ubuntu ( adb shell Windows). Slika:
I konačno naredba kojom definišemo da sve dalje instalacije idu direktno na SD karticu telefona pm setInstallLocation 2 (isto i za Ubuntu i za Windows) i exit naredba posle toga.
To je sve. Posle ovoga možete čak da pomerite sve aplikacije, koje ranije niste mogli, na SD karticu, i instalacija svih narednih ide pravo tamo. Jedino što nećete moći da pomerite jesu aplikacije Facebook, Gmail, Flash, Youtube, Market, Google Search. Ali to nije moguće čak ni sa root-ovanim telefonom.
Ako budete želeli da se instalacija aplikacija vrati na memoriju telefona sve je isto samo se umesto naredbe pm setInstallLocation 2 koristi pm setInstallLocation 0 . Dobra strana ovoga jeste više mesta na memoriji telefona, loša strana jeste što telefonu treba više vremena da učita SD karticu kao fleš memoriju na kompjuteru. Takođe, vreme potrebno da aplikacije koje su na SD kartici postanu dostupne za otvaranje i korišćenje se povećava kad se upali telefon. Telefon na kome je sve ovo urađeno je HTC Desire.